ZEYNEP / BLUE
Dimensions: 10 x 10cm // 3.94 x 3.94in approx
Depth: 0.75cm // 0.3in approx
Made to order in Turkey.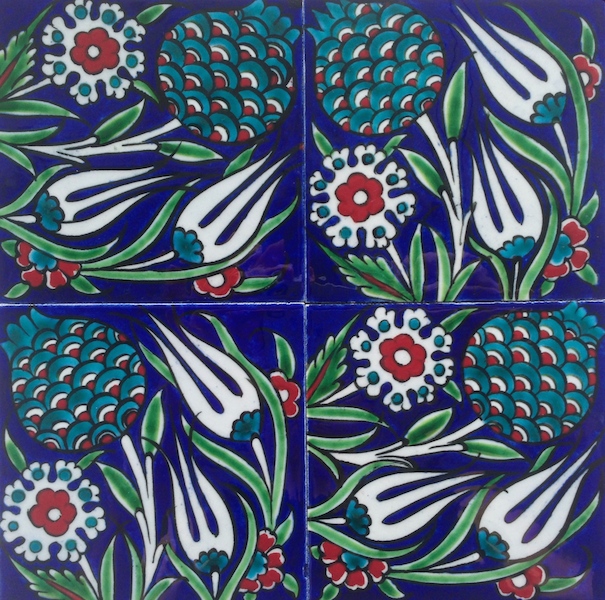 ZEYNEP / Blue / accent tile
Zeynep is a richly colored and vibrant floral accent tile available in four colorways. Zeynep Blue is the most romantic, its deep ground color setting off the white tulips and florals in an almost positive-negative effect. The traditional Ottoman motifs pop in this midnight garden. A great tile to mix with other traditional-palette accent tiles. Can be used alone or arranged in multiples for a lively overall appeal.
Accent tiles do not create repeating designs, and are excellent as accents in kitchen backsplashes, interspersed on bathroom walls, etc.
Shown in single tile and two arrangements of two-by-two tiles.
Iznik tiles are for wall and accent use. Can be used in wet areas like bathrooms and kitchens. Not for use as flooring. Small cracks in the glaze are hallmarks of the process and not flaws.
Dimensions: 10 x 10 cm // 3.94 in x 3.94 in approx
Depth: 0.75cm // 0.3 in approx
Handmade to order in Turkey.
ZEYNEP accent tile also available in these colorways > > >
Please fill out this form to REQUEST QUOTE >>